What are the differences in price rates?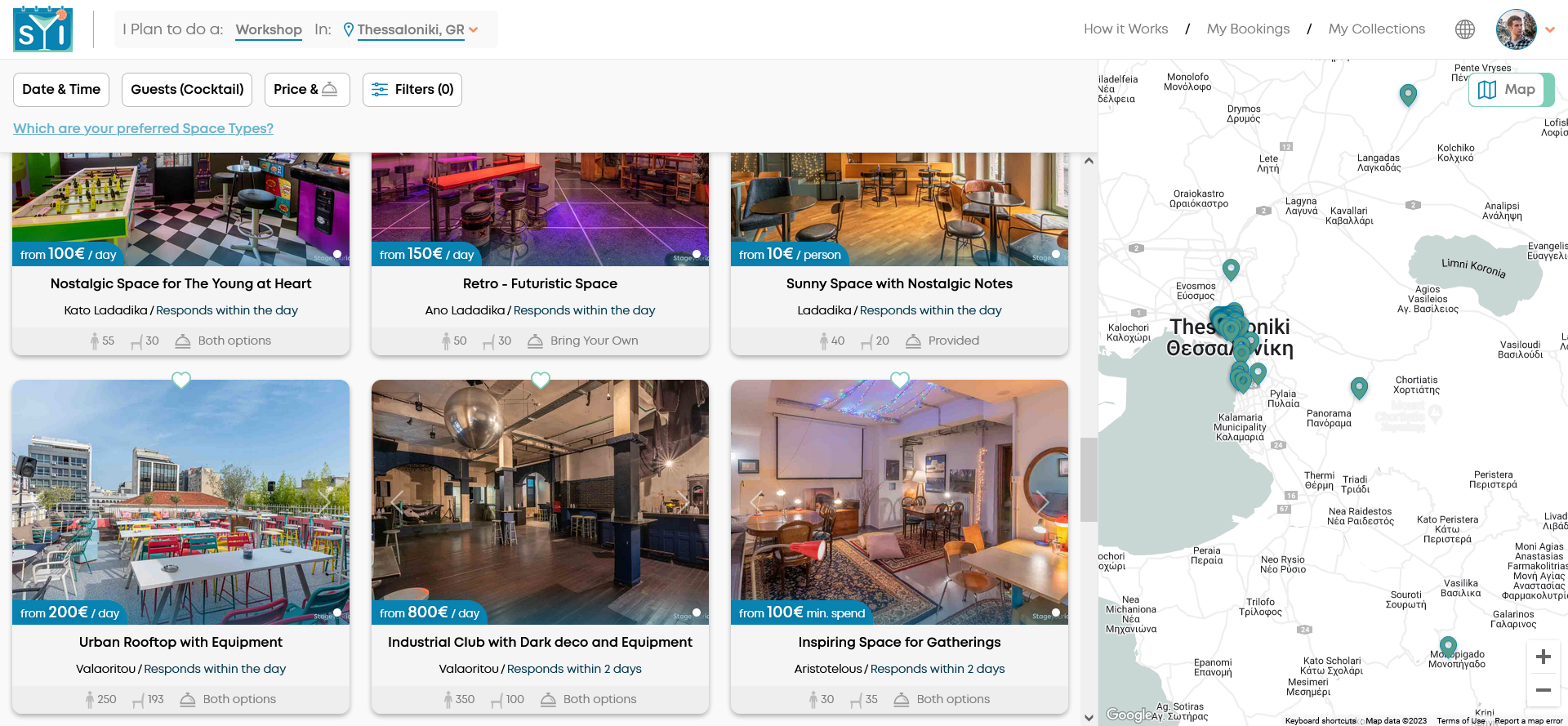 In the StageYourIdea platform you will see a Search Results page showing Spaces priced with different kind of rates. What are their differences? This article's aim is to help you figure that out.
Minimum spend (on consumption)
To hire the Space, your group of guests should spend (pay) a minimum on F&B (Food & Beverages) during your booking. This implies that if your booking is made for a 'Whole Space' hire, you can have the Space privately during your activity while you (the Organiser) may not pay anything else other than your own consumption.
To know if a min. spend is of your interest you should take into account the number of your guests AND the pricing of menu items.
If a Venue has an expensive F&B catalogue then the minimum spend will be reached easier / quicker than a Venue with a cheap F&B catalogue. However, in the latter case you could bring more guests to reach the minimum.
Min. Spend Example
You want to organise an Alumni Party for 50 guests. You choose to hire a bar type of Space with a €500 min. spend rate. If your guests spend €10 each on drinks and / or snacks during your booked hours, guess what, you will be called to pay, well, zero!
If their total consumption ends up being less than the minimum you will simply have to cover for that difference or serve them that difference in drinks. That's it.
What's the difference of 'minimum spend' with 'per person' pricing?
For a 'Whole Space' hire, in minimum spend pricing there is no limitation regarding the total number of your invited guests (either as a minimum or a maximum) as long as the Space fits them whereas on a 'per person' pricing usually there is.
Also, it is not mandatory for your guests to spend in equal terms. In the example above, some of guests may spend more on consumption and others less, if in total they reach the minimum spend you will pay nothing.
Am I allowed to bring my own F&B while having selected minimum spend?
No, you are not. Minimum spend dictates that any consumption should happen from the Venue, that's why is a minimum and not a set spend.
What happens if the consumption goes beyond the minimum?
Your guests are paying for their consumption. You all have to do is to ensure that your guests' number is sufficient to reach the minimum spend. If they spend more then that should not be a concern for you.
Can I pay for my guest's consumption?
Yes, you could pay a part or the total minimum spend for them. It is a common practice to count the number of your guests and cover their first drink.
For instance, in the above mentioned example you could pay half of the required minimum spend (€250) to include a drink of €5 for each one of your 50 guests. Some of them will continue to consume so the minimum could be reached by subsequent orders during your booking.
Can I sell tickets if I have selected this type of pricing?
Yes, considering that the Venue Host allows you to do so. You could price your tickets above the minimum spend on a per person basis or not, if you think that the minimum spend will be reached by their subsequent orders.
You should check the Space's Terms to find out if the Venue Host allows you to sell tickets or you could use the corresponding filter in the Search Results (How do I search for my ideal Space?) page to be presented with all those Spaces where you are allowed to do that.
Can I organise a booking presentation for free with minimum spend?
Yes, you can organise any activity free of charge if the Venue Host 'allows you to bring uninvited guests' (Terms filter) and those guests reach the minimum required spend during your booking.
Price per person
To hire the Space you should pay upfront a price per invited guest (a minimum number may be required). This may or may not include the consumption of F&B.
Make sure to read the listing's description and the 'Pricing' section to see if the price per person includes F&B in it or is an entrance fee
Will I be asked to pay upfront in all instances?
It depends on the Venue Host but this is a usual practice so its good to be prepared for that scenario.
Many Spaces are offered with both 'minimum spend' and 'price per person', which one should I choose?
It depends on your needs. If you are fine having your guests paying for their F&B consumption or you want to serve them only their first drink you should opt for a minimum spend. If on the other hand, you want to pay for them or to have them served with specific menu items you should opt for a price per person.
I have read the Space's description, yet, I am not sure what F&B items are included in the price per person
Why don't you ask? You can either specify what F&B combination you want to be included based on the menu catalogue items in your free request's message or ask the Venue Host.
Price per day / session / hour
To hire the Space you should pay a fee per day or per session or per hour. This does not include F&B consumption but you may be able to Bring Your Own F&B and / or order from the Venue on top of your hire fee.
You should check the Space page to find out if there are minimum hours required for you to send your free booking request.
Am I allowed to bring my own F&B by opting for a hire fee of this kind of pricing?
In most cases, yes, but you may be limited to bring either the one (Food Only) or the other (Beverages Only), so you have to look at the Pricing section of the Space page to find out exactly or you could use the F&B filter in the Search Results page (https://stageyouridea.atlassian.net/wiki/spaces/KB/pages/edit-v2/34635788) to filter out Spaces based on that fact.
Am I allowed to bring my own catering provider if I select this option (i.e. Bring Your Own Food Only)?
Yes you are allowed to but you should make sure there are no external beverages provided. You are restricted to bringing just food.
Are there exceptions to that rule?
There could be. For instance, you may want to bring some soft drinks for some of your guests while others will consume alcohol from the Venue. You could send your free request, with a message, describing your activity and asking from the Venue Host if there is any possibility for that type of scenario.